SAN-EARTH Vs. Bare Copper Wire
Lower Resistance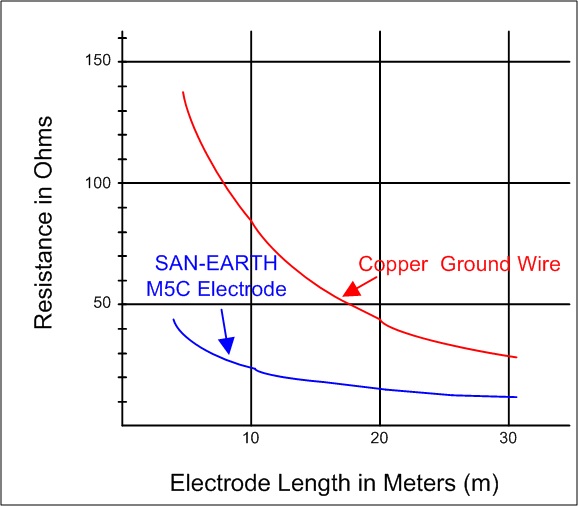 Test Site Soil Coniditions
| | | | | | |
| --- | --- | --- | --- | --- | --- |
| Resistivity at Indicated Depth | 306 Ω-m | 382 Ω-m | 186 Ω-m | 161 Ω-m | 47 Ω-m |
| Average Resistivity to Indicated Depth | 306 Ω-m | 372 Ω-m | 232 Ω-m | 332 Ω-m | 237 Ω-m |
SAN-EARTH electrode resistance is 60-70% lower than bare copper counterpoise wire.
Installation costs are similar.
Resistance of the five meter SAN- EARTH electrode is the same as the twenty-meter long bare copper wire.
Ideal contact with the surrounding soil is achieved because SAN-EARTH conforms to the shape of the trench.
The effective surface area of the SAN-EARTH grounding electrode is about 25 times larger than the counterpoise wire.